Serving Eastern Oregon Hospitals.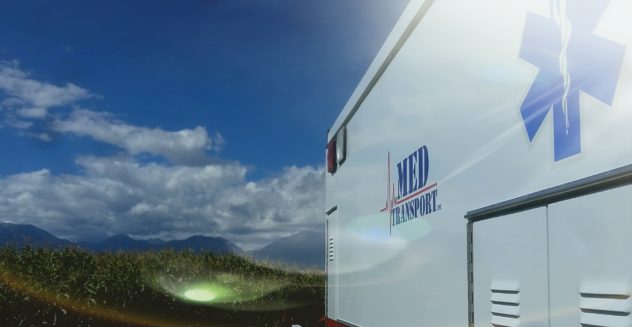 Med Transport Inc. is a dedicated ground Inter-facility Advanced Life Support Ambulance service (Hospital to Hospital). Serving La Grande, Baker City, and surrounding area Hospitals throughout Eastern Oregon. We transport patients from Emergency Rooms, ICU's, and Med./Surg. floors to higher level of care facilities and/or specialty care facilities. Combined we have over 63 years of care giving experience.
One of the last things on your mind when going to the hospital is; "am I going to get transferred to another hospital and how will this effect me and my finances in the future". It may be very beneficial to you and or your love ones to stop and think about your situation and ask questions.    
Ask your care provider:
Can I be sent by an Advanced Life Support (ALS) or a Basic Life Support (BLS) ground ambulance or do I need to be sent by a Critical Care air ambulance?
Can I choose my provider?
What companies provide these services here?
How much is this going to cost me and/or my insurance company?
Why am I being transferred?
Are my vital signs stable or being maintained with medications?
What care will be given and/or maintained in route?
Am I going straight into surgery upon arrival?
Is this a time sensitive transport?
Is there an immediate life threat?
There are two types of transports that are sent out of emergency departments, urgent and emergent. Which one are you?
We transported over 200 patients out of Eastern Oregon Hospitals with in our first year. We have taken patients out of Union, Baker, Wallowa, and Umatilla Counties. We are a small private business dedicated to providing inter-facility transports. We have saved tax payers, insurance companies and patients a lot of money. We utilize RN's and/or Paramedics to render care. We have cardiac monitors, infusion pumps and a wide variety of emergency medicines. Request our service to your care provider. Patients always have the right to choose their provider.
We have 12 lead cardiac monitors, Iv pumps, emergency medications, pain management, nebulizers, CPAP, O2, Auto pulse CPR boards (performs mechanical CPR), and all other equipment required on an advanced life support ambulance. Here are examples of patients we have taken: patients receiving blood products (we will not start in route), assortment of fractures ( hip and spinal fractures), we have taken patients on Antibiotics, Nitro, Heparin, renal failures, non-STEMI's, CHF patients, cancer patients, infections, GI bleeds, pneumothorax, appendicitis, many diabetics, stroke, STEMI's (we prefer STEMI's go by an air service), GI blocks, and a variety of other medical issues.